Formal Rebellion 14.10.21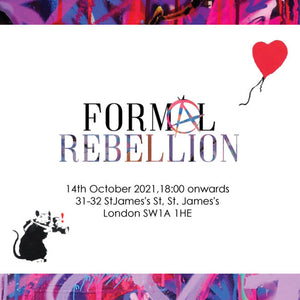 Formal Rebellion Art Show
14th October 2021

Featuring an exclusive collection of Banksy works and other works by Pure Evil, Richard Hambleton, Mr Brainwash to name but a few.
Formal Rebellion's opening night is an invite only event on the 14th of October 2021 and will be open to the public from the 15th October 2021 and to run for 2 months.
Showcasing some of the biggest and brightest stars of the modern generation, this highly sought-after show, situated over three floors in the heart of Mayfair will feature unseen works and a secret vault of rare Banksy pieces.