Pull up to My Bumper Baby 04.11.21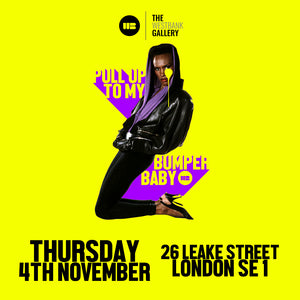 Thursday 4th November 2021
6pm to 12am

26 Leake Street
London
SE1 7NN

Pull Up to My Bumper Baby, a dynamic and innovative, immersive experience brought to you by Westbank Gallery.

We invite you to join us for the Private view of the most original, experiential art show London has ever seen.

Featuring 16 vintage bumper cars fabricated into wall mounted 3d art installations, each uniquely designed by a collection of the UK's foremost, urban, contemporary and street artists.

Working their artistry on the same quirky and eccentric medium, each dodgem car will showcase the artist's unique personality. The bumper cars will also be accompanied by more traditional pieces by each artist.

SCHOONY
PURE EVIL
CHEBA
LEMAK
MAU MAU
JAMES STARR
THE DNA FACTORY
CARRIE REICHARDT
RUGMAN
HENRY HATE
ILLUMINATI
LEE HENDERSON
ANGUS MCBOB
OIK
DARREN WEST
Live painters and a working installation from The Sa'Real Unwind retro, who will be kitting an arch with retro consoles!

Alongside all of this amazing creativity, there will be games, entertainment and music from Trevor Fung, Kevin O'leary and Clifton McClean bringing you classic and deep house.

Watch out London, Pull up to the Bumper, an immersive experience.